SftTabs/DLL offers easy to use tab controls for 32-bit and 64-bit applications on Windows 2000 through Windows 10, along with all server editions. Many tab styles are available, from simple single-row tab control to multi-row dual-sided and notebook-style tab control.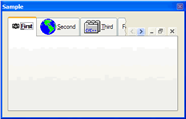 Features
SftTabs/DLL is a DLL-based tab control for the Windows operating system for C and C++ application. Some of SftTabs/DLL's features include the following:
75 tab styles
SftTabs/DLL Wizard
Single or multiple tab rows
Different color tabs
Themes support for Windows XP and above
Transition effects
Background bitmaps and transparent controls
Customizable images on each tab for regular, hot and disabled tabs using bitmaps, icons, image lists, GDI+ images, checkboxes, radiobuttons.
Hidden tabs
Enabled/disabled tabs
Single or multiline tab labels
Selectable tab label text alignment (left, right, center)
Built-in Minimize, Restore, Close buttons
Wizard-style dialogs
Tabbed dialogs and tabbed windows
Tab reordering
Tab drag & drop
Up to 32 rows of tabs
Up to 256 tabs per tab control
Multiple tab styles
Tab colors can change based on tab status
Fixed or variable width tabs
Tab control with or without client area
ToolTips
Flyby highlighting
Ellipses for truncated tab text
Scrollable tabs
User-customizable scroll button bitmaps
Reduced menu complexity by using tab controls
Support for C and C++ (MFC) using Visual Studio
Support for Windows XP through Windows 10 and their server editions (32-bit and 64-bit applications)
Complete implementation, not a sub/superclassed Windows control
Details
SftTabs/DLL is written in C. About 40 MB of disk space are needed to install the developer version of SftTabs/DLL. The DLL is just 800KB (32-bit) and 1.2MB (x64). There are no additional run-time DLLs needed (no MFC DLLs). Of course, the DLL files included in SftTabs/DLL can be redistributed royalty-free with your application.